Contacts
Phone: 281-580-4374
E-mail: agapit_irineos@yahoo.com
Adress: 24 Tidwell Rd.
Houston, Texas 77022
Blessed is he that cometh in the name of the Lord!

Dear visitors!
Welcome to the website of the community of Saint Vladimir Russian Orthodox Church in Houston, Texas. Our Church has served the Orthodox community and has been a place for faith and fellowship for over 60 years. Our Church is dedicated to St. Vladimir the Great Prince and Equal-to-the-Apostles, the Enlightener of Russia.
As our guest, you are very welcome to browse the site to learn more about our Church and Parish life. There you will obtain information about the Church Sunday School, Library, Kiosk and come across the Photo Gallery of the Events happened in our church life.
May God bless you!
News
Pravoslavnyi Vestnik
3 November 2014
With the blessing of the Rector of our Church,Fr. Lubomir, members of St. Xenii of Petersburg Sisterhood have brought out the first issue of the Church newsletter "Pravoslavnyi Vestnik" . The newsletter is published monthly and contains important information about different aspects of Church life and deeds, the upcoming events and activities at the church.We anticipate that the periodical will develop into a good tradition and if you have comments or suggestions, you are welcome to share them with the editorial board. Should you be interested on advertising in the newsletter, please, contact the editors at pravoslavnyi.vestnik@gmail.com or the Senior Sister Lyubov Stukalova. Upcoming deadlines for submission of copy - by 15th of each month.For more information, contact Senior Sister.
Thank you for your support
God bless you,
Editorial board
Birthday celebration of our rector Fr.Lubomir - Sunday November 23th after D. Liturgy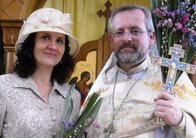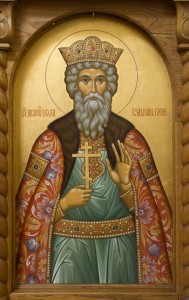 Troparion tone 4
Sitting on the throne of God-protected Kiev,
thou wast like a merchant seeking goodly pearls, O Vladimir.
Thou didst search and Send to the Imperial City to know the Orthodox Faith.
Thou didst find Christ the Pearl of great price,
Who chose thee like Paul and enlightened thy blindness at the Font.
Thy people celebrate thy repose:
wherefore pray for Russia and all peoples,
that the Orthodox may be granted peace and great mercy.
Kontakion tone 8
Like the Apostle Paul, O Vladimir,
thou didst abandon childish ways
and in manhood wast royally adorned with Baptism.
Now thou art joyfully standing
in the presence of Christ our Saviour:
pray that Orthodox Hierarchs and people,
and all creation, may be saved.